Mon, Oct 14th, 2019
6:30 PM
DO YOU KNOW THE OPPORTUNITIES AND CHALLENGES REGARDING INCOME, TAXES AND RISK?
Join your host, Danny Philipi of JC Grason Topeka, for a gourmet dinner as he explores the latest strategies to help create and protect a confident retirement in today's volatile economic environment.
Topics to be discussed:
Retirement Income: Learn strategies to help avoid outliving your money and help secure your future cash flow
Social Security: How you can help maximize your benefits and protect your spouse
Market Volatility: Why it could potentially play a bigger role than the rate of return you earn on your retirement portfolio
Tax-Efficient Planning: Learn about a forward-looking Tax Plan that could potentially save you and your family thousands of dollars
Extended Care: How you can help prepare for rising extended care costs that can derail even the best laid plans
Bonus Topic: The planning opportunities some advisors may miss due to a narrow focus on your investments
---
Check in begins at 6:15 PM | Seminar starts promptly at 6:30 PM.  Adult, first time attendees only, please. There is no obligation. Please…no children, agents or brokers. For ages 50+.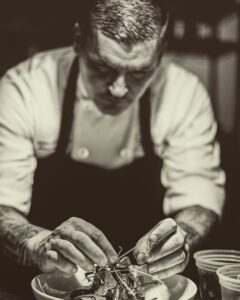 Chef Adam VanDonge
The White Linen
Taste of Spain
A 3 Course Tasting Meal
with Spanish and Mexican Wine Pairings
Register today for a complimentary, fine-dining experience! Seating is limited.
00273375